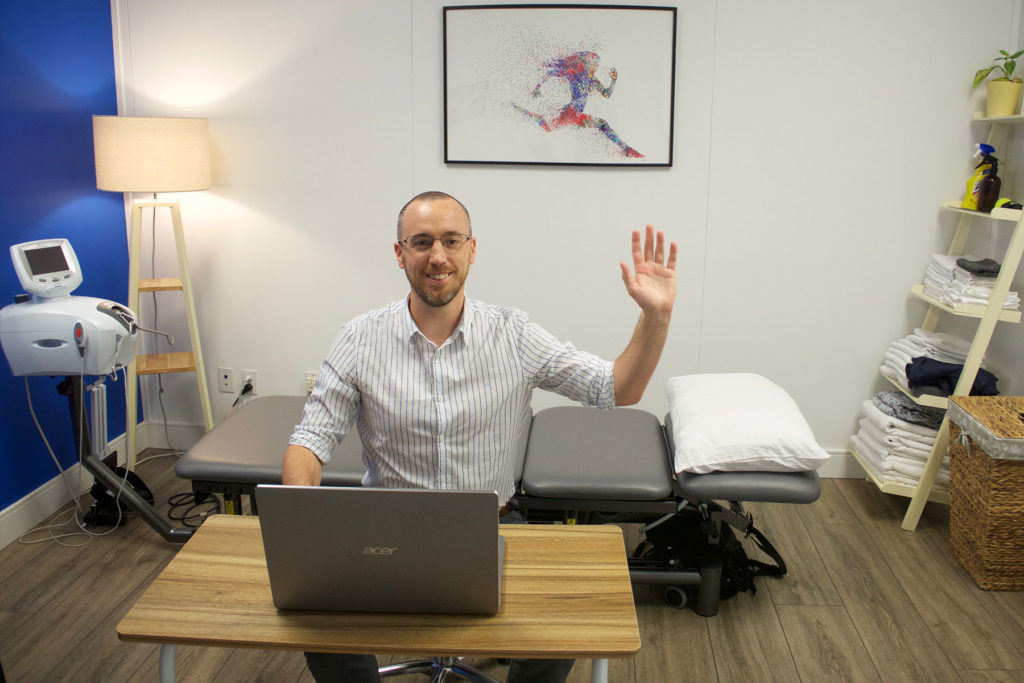 What is online physiotherapy telerehabilitation?
Telerehabilitation is a form of therapy which has been around for many years; however, due to the current coronavirus pandemic, it is becoming a more and more popular way to provide physiotherapy treatment to the public.

Using a webcam on your computer, tablet or phone, we are able to communicate with you securely from the comfort of your home and accurately assess your condition, provide a diagnosis and deliver you a personalized treatment plan.

Following the appointment, we will email you with your exercise plan, which shows you all of the exercises which have been prescribed for you.
Who is online physiotherapy telerehabilitation for?
If you were considering going to a traditional outpatient physiotherapy clinic to have your problem assessed, online telerehabilitation is most likely suitable for you. Most common problems we see in our clinic can be managed through exercise and advice, and if we do think that you would be better served by seeing a physio in person, we will tell you this and refund you.
We will screen all online telerehabilitation appointments before they occur, so if we think your problem is something that is not appropriate for an online appointment, we will let you know beforehand and the appointment can be cancelled.
The following therapists are available for booking online
Registered Physiotherapist
Registered Physiotherapist
Athletic Therapist, Kinesiologist
Registered Holistic Nutritionist
How can online physiotherapy diagnose me if you can't touch me?
Knowing what questions to ask and signs to look for are a vital component of any physiotherapists toolkit, and these skills develop over time and with experience. Physiotherapists are trained extensively in these skills, and often have a good idea about what is happening before they even do any hands-on assessments!

Every physiotherapy appointment is comprised of two parts – the 'subjective' and 'objective' assessment. The subjective assessment is where the physiotherapist asks you a number of questions about your problem, such as how you hurt yourself, where it hurts, what kind of pain it is and what makes it better or worse (amongst other things). This part it vital for us to find out what the cause of your problem is. The objective assessment is where we look at how well your body is moving, check on range of motion of appropriate body parts (like to see how much your spine or your shoulder can move), check your strength and do any special tests we deem are appropriate. The good news is that we can quite easily do all of these things over a computer screen!
How can online physiotherapy help me if you can't do hands-on treatment?
The core principle of physiotherapy is to empower you to be able to manage and resolve your symptoms independently. Physiotherapy is an active treatment approach which means we can give you the tools to use at home (advice and exercise prescription) to help heal yourself and get you to where you want to be. In fact, research shows that exercise is one of the best treatment tools available to treat a vast array of aches and pains – we give you the tools to do this.
Do I need to be in Penticton to have an online appointment with you?
No! While we are based in Penticton and will be offering online telerehabilitation physiotherapy in Penticton, the great thing about telerehabilitation and online physiotherapy appointments is that you can be anywhere! The only geographical limitation is that you must be located in British Columbia to receive online physiotherapy telerehabilitation with us. This is because our physiotherapists are registered to provide physiotherapy care in British Columbia, but not outside of it.
Do I need a doctors appointment for an online telerehabilitation appointment?
In a word, no! Physiotherapists are primary healthcare professionals and you do not require a prescription to work with us.
How do I book an appointment?
Book an appointment with our online booking system.
Give us a call and speak with Callen, our office manager.
Come in and say hi at our Ellis Street location on the 31st March!
Will my insurance plan cover my APPOINTMENT?
We advise that you contact your private insurance provider first to check if they will cover you for this type of physiotherapy treatment, as every insurance provider and plan will differ in what they offer. We will provide you with a detailed receipt following your appointment which you can use to either submit directly to your insurance provider, or keep for tax purposes.
How Do I Get Online With You?
Thankfully, it's a really simple process. You will receive an email from us, which will have a link in it which you click on to open your 'Jane' account (Jane is the program we use for all of our scheduling and billing, and the program you will use with us to complete the appointment). When it's time for your online appointment, follow the link in the email to open a new web browser, which will automatically start the video chat. Just 'allow' your computer to access the microphone and video camera, and you're set! We recommend using the Google Chrome web browser, as it seems to be the most stable and has worked the best in our experience.