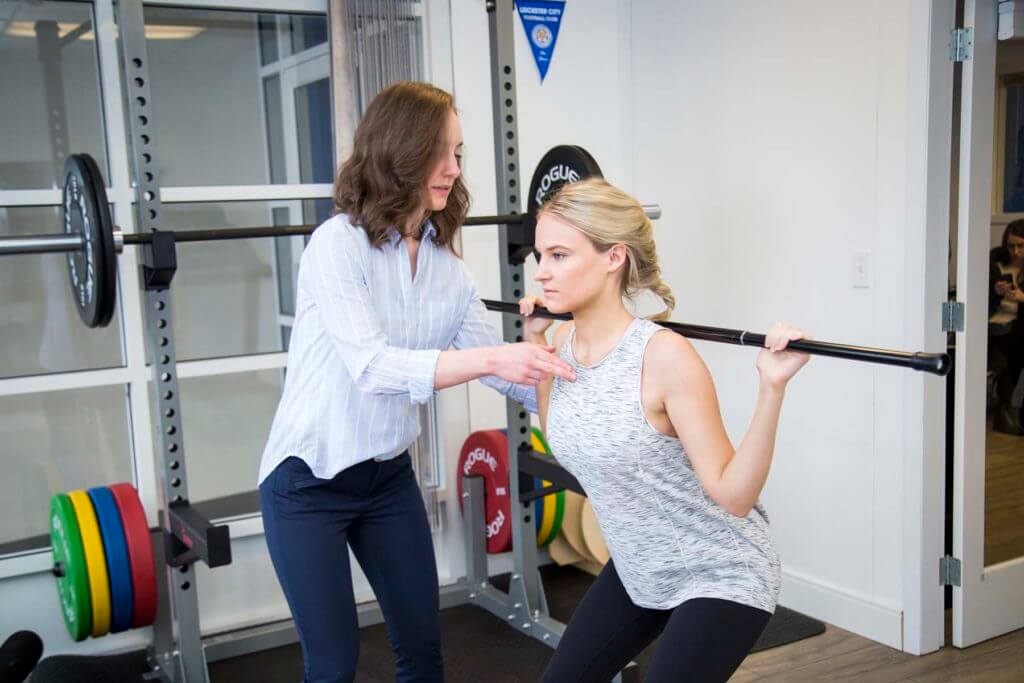 Who is an athletic therapist?
An Athletic Therapist is a university trained, primary healthcare professional who has extensive training in the field of musculoskeletal and sports injuries. Similar to physiotherapists, they work individually with their clients to help heal injuries and get them back to their full potential, whether that be returning to sport, getting back to work, or relieving pain or disability.
Athletic Therapists use a number of treatment techniques, such as manual manipulation, massage, electrotherapy modalities, and exercise training to rehab their patients back to full health and strength. A session with an Athletic Therapist will include an assessment, followed by hands-on treatment and rehabilitation in our gym space (when appropriate). Athletic Therapy is regulated by the Canadian Athletic Therapy Association (CATA), and members must be in good standing with them to practice.
MEET OUR ATHLETIC THERAPIST
WHO DO ATHLETIC THERAPISTS TREAT?​
As you might expect from their name, Athletic Therapists work with sports teams and athletes, both at pitch-side and in the clinic, to manage and treat musculoskeletal injuries. They are experts at assessing and treating sports injuries, but also have the expert knowledge to treat non-athletes with their injuries, such as low back pain, shoulder and neck pain, and knee problems.
The following is a list of common conditions Athletic Therapists treat:
Sports injuries
Degeneration of joints
Osteoarthritis
Rotator cuff tears or irritations
Plantar fasciitis
Tennis & Golfer's elbow
Patellofemoral knee pain
Ankle sprains
Trochanteric bursitis
Whiplash after a car accident
Headaches and migraines
Shoulder dislocations
Postural problems
Slipped or bulging discs
Sciatica
Tendonitis
Repetitive strain injuries
Carpal tunnel syndrome
Fibromyalgia
Achilles tendonitis
Iliotibial band syndrome
Shin splints
Frozen Shoulder
Temporomandibular (TMJ)/ jaw pain and conditions
Post surgical patients, or those who have broken bones
HOW CAN I SEE AN ATHLETIC THERAPIST?
As Athletic Therapists are primary healthcare professionals, no doctor's referral is needed to seek our services. To book an appointment with one of our Athletic Therapists, you can:
Book an appointment with our online booking system.
Give us a call and speak with our front desk.
Come in and say hi at our Ellis Street location!
WILL MY INSURANCE PLAN COVER MY ATHLETIC THERAPY VISIT?​
Currently, a number of insurance companies do cover athletic therapy visits. Some companies, however, require that you call them and have athletic therapy added to your coverage, as it is not always included on the base plan. Unfortunately, the insurance companies will not let our staff in the clinic do this for you, and require you to call instead.
The Canadian Athletic Therapists Association (CATA) is currently striving for more insurance companies in BC to cover athletic therapy. At this time, the following plans do cover Athletic Therapy:
Great West Life
Manulife
Desjardins
Greenshield
Empire
All Sport
Canadian Hockey Association
Cooperators